Seminar From an "office factory" to a virtual-real place for encounter and cooperation? with Burkhard Remmers.
Seats limited. Entrance on preliminary registration: info@solo.ru or


Chairs by Wilkhahn: Graph, ON, Modus и Chassis are in Cabinet Lounge were you can evaluate their functionality and convenience.



Burkhard Remmers - studied German linguistics and history. His studies were followed by lateral entry into the furniture industry in 1988. At Wilkhahn he has been head of international communication since 2008. His special focus is on the further development of sustainable organizational and communication structures which can adapt to the future.

He is author of many international publications, latest essay: Office design and knowledge economy, in: Christian Schittich (ed.), IN DETAIL: Work environments, Munich 2011.
Globalization, specialization and digitalization are the driving forces of change within office organisation. At the same time, global networking is increasing the complexity and thus the specialization of business processes. And last but not least, office work is becoming independent of time and space due to the miniaturization of working aids and means of communication. What implications does this development have on the design of office buildings?

Wilkhahn specializes in the arrangement of conference-halls,meeting rooms, executive cabinets and VIP-zones. According to some reports, German chancellors cabinets are traditionally furnished with chairs of this particular manufactor.
One of the most important awarding ceremonies in design – Red Dot Award: Product Design – took place in Aalto-Theater Essen (Germany) on July'2. 1 800 companies and designers from 58 counntries took part in the event.

The chair Graph by Wilkhahn (design by Markus Jehs and Jürgen Laub) won the first prize. Earlier this year the chair has got iF Product Design award.
At the design's core is a seat shell that can be divided and put back together differently, with the armrests becoming the main link between the seat and the backrest.
The original, unitary shell shape is still recognisable, but a high level of visual lightness is achieved by the cut-out section and open armrests.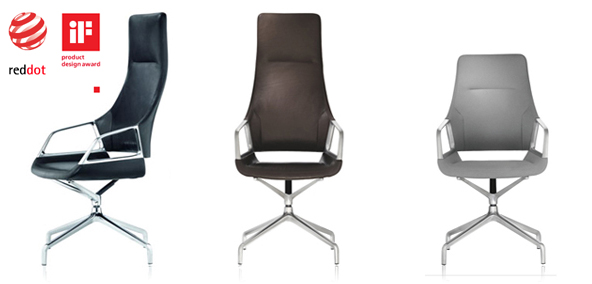 Solo Office Interiors communication center is equipped with higher-level Wilkhahn prouts. Tables for training centers Timetable, conference chairs Ceno, Sito, Aline are represented here, as well as chair Modus, ON, Graph, FS-LINE, STITZ.
Cabinet Lounge on Novaya Ploshad' – the first and so far the only private members business club in Moscow. This represents a new business format for Russia – one that has already functioned successfully for several years in other key business capital cities.
Cabinet Lounge is a fully-functional business space, with meeting rooms, fully-equipped work spaces and offices, a conference hall with video conferencing facilities, high-speed Wi-Fi, a secretary, IT consultant, first class bar and a restaurant serving delicious, healthy food.

Gravis, Confair, Sito by Wilkhahn (German) is in Cabinet Lounge meeting rooms and Chassisare in conference hall.

Wilkhahn is known by its innovative decisions. One of the last company's development is the chair ON, which entered into the eight most convenient office chairs, according to Forbes magazine.

ON is a fluid combination of natural, three-dimensional movement and relaxation that rouses both mind and body.

Trimension lies at the heart of ON. Due to innovative, synchro-supporting 3D kinematics, the sideways inclination of the seat and backrest is integrated into a perfect and synchronous movement concept. Two separate swing plates move in the same way our thighs do. Ball and socket joints connect the swing plates to the Flexframe®, a combination of a flexible seat shell and extremely flexible back frame. Because the kinematics precisely mirror the natural functions and positions of the hip and knee joints, the body's centre of gravity stays in perfect balance - no matter what posture you adopt or way you move. The joints, the spine, the dynamic muscles and the entire metabolism are all activated without causing fatigue. ON activates the metabolism - which is not just good for our health, but our level of productivity too.